Build a movie set
Students in Carpentry & Cabinetry created a movie set from start to finish for a local, professional film project
Build a movie set
Published December 1, 2021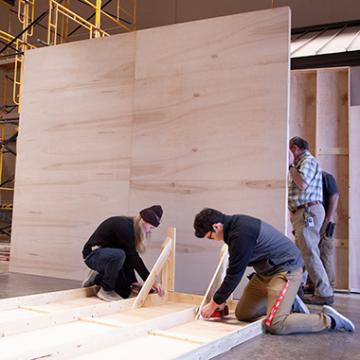 'Nefarious' Project
Real-world experience
Program
Carpentry & Cabinetry
"I always wondered what it would be like to work on a movie set." - Cruz Godinez, student
Bryan Kropfinger's morning and afternoon classes spent a little over three days putting together the set for the film "Nefarious." They received plans and the necessary materials before quickly getting to work on a tight deadline.
"It'll be great experience for that industry and for what I'm going to do in the future," said Carpentry student Cruz Godinez. "It'll come with some challenges, but we can do it with everything that we've learned."
Students already had the skills needed to create this piece of movie magic. But the real-world experience was unique and offered valuable insight into working for Oklahoma's growing film industry.
"They understand how to build these modular walls based on what they have already learned here," Kropfinger said. "And I hope they come back and have us do more because my students are definitely interested in doing stuff like this."
"Nefarious" is the first film to be created out of Prairie Surf Studios, which is based in Oklahoma City. Francis Tuttle and Prairie Surf have teamed up to create a series of training classes designed for work in the local film industry.
And based on feedback so far, this is not expected to be the last time Francis Tuttle students get to do some real-life movie work.