Mary builds a successful career
Machining student Mary Welch found a creative outlet and a job thanks to the program
Mary builds a successful career
Published November 1, 2021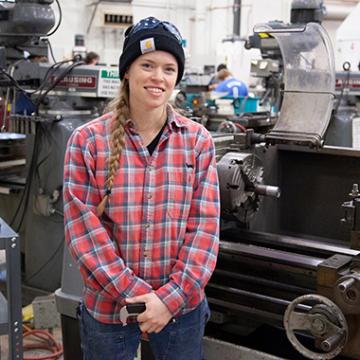 Mary Welch
Machining Student
Program
Manufacturing Technology-Machining
"There's something about being able to create. It appeals to my independent nature."
It's exciting to create something with your hands.
Mary Welch is about to complete her second training program with this motivation. And as she finishes the Machining program, she has already secured a part-time job in an industry that is trending upward.
Pale Blue Plastics hired Welch onto their team and afforded her the time to finish her program. The startup specializes in reducing plastic waste by refashioning it to create everyday household items.
Welch said she had set her mind on college before graduating high school, but she began to explore other options. College wasn't on her heart, but she thought welding might be.
After completing that program at Meridian Tech in Stillwater, Welch discovered the Machining program at Francis Tuttle. She received a lot of encouragement from instructor Julia Southern, who provided valuable knowledge and a relatable figure as a woman in a predominantly male workplace.
"First and foremost, Julia is a fantastic teacher," Welch said. "It also means so much to have that extra level, to know that she has that industry experience as a woman in a field dominated by men."
Welch is embracing her path into a non-traditional career — in which the employee's gender makes up less than 25% of the current workforce.