How Lori Hall's FT experience helped launch a restaurant
Hall's Pizza Kitchen was already in the works when Lori decided to take culinary classes. But the experience proved helpful in starting the successful restaurant.
How Lori Hall's FT experience helped launch a restaurant
Published January 2, 2020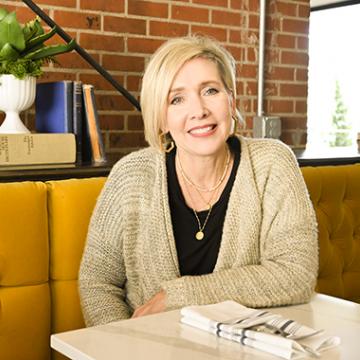 Lori Hall
Culinary Arts student
Hall's Pizza Kitchen Culinary Director
"I think it's really neat that it is so affordable. And it's just like anything: if you give it your best, show up on time, and do it well and are respectful, you're going to get a lot more out of it than if you do it halfway."
The idea that would grow into The Hall's Pizza Kitchen was already sparked by the time Lori Hall started her Culinary journey at Francis Tuttle.
In fact, the Halls rolled out their initial food truck in 2013 while Lori was a second-year student. But the knowledge she gained through the Culinary Arts program helped establish the foundation for what is now one of Oklahoma City's most successful restaurants, where Lori works as the Culinary Director alongside husband Lorne and daughters Molly and Elise.
"They educate you on, if you're in a restaurant, you're going to do this," Lori said. "They really prepare you for what it's like to jump in a kitchen. All of that helped tremendously."
Lori now serves on the Culinary Advisory Board at Francis Tuttle, and she has even acted as a substitute chef for classes. The Hall's Pizza Kitchen hires many Francis Tuttle graduates to create delectable wood-fired pizzas for customers at its permanent location in the Alley at 9th and Hudson.
But before all of that, Lori was a mother who had just sent her youngest daughter off to college. She and Lorne taught their children through homeschool, and that gave Lori an appreciation for the learning process that matched perfectly with Francis Tuttle's Core Value of aspiration.
"I really wanted to just keep learning. That's always been my goal," Lori said. "I had time on my hands, and there was a lady at my church who went to Francis Tuttle and loved it, and said that I ought to do that some day. The timing was good for me."
Lori always enjoyed family time in the kitchen, and baking was a particular favorite. She found instruction and guidance from the professional chefs in the Francis Tuttle Culinary labs to be empowering.
"Chef Claes [Passmark] was inspiring. He has such a gift," she said. "I think he makes everyone feel like they are the most special person in the world. Chef Anna [Banda] just challenges you; all of them really did. They were inspiring and fun."
In the years since she completed the course and returned as a substitute, Lori was even able to inspire others who would become part of the Oklahoma City dining scene. While speaking to fellow food truck owners, one of them told Lori that she was the one who taught her how to make hollandaise sauce.
Almost every day, Lori works with and networks with restaurant professionals who got their start at Francis Tuttle. It's just one example of the value of the program in the restaurant industry.
"I talk about Francis Tuttle a lot because I really loved it," Lori said. "I think it's really neat that it is so affordable. And it's just like anything: if you give it your best, show up on time, and do it well and are respectful, you're going to get a lot more out of it than if you do it halfway. The people I have now who are working with me were great students and they were recommended to me."