Francis Tuttle's Gabriel Lewis goes beyond MasterChef
After appearing on the hit show, Lewis has continued on to culinary career success
Francis Tuttle's Gabriel Lewis goes beyond MasterChef
Published July 2, 2021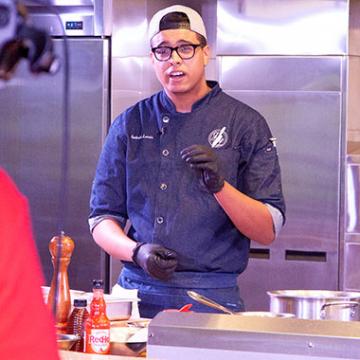 Gabriel Lewis
Professional Chef, Culinary Arts Program graduate
Francis Tuttle gave me a snapshot of what the industry is really like.
Gabriel Lewis has shown the world what he can accomplish in the kitchen.
As a top 7 finalist on Season 8 (2017) of the hit series MasterChef, Lewis has put his skills to the test on the ultimate stage. Even world renowned chef Gordon Ramsey was impressed, as he paid for Lewis' continuing education after MasterChef was over.
But before all of that, Lewis came to learn in the kitchens of the Francis Tuttle Culinary Arts program. It's safe to say he's put those learned skills to good use.
"Francis Tuttle gave me a snapshot of what the industry is really like," Lewis said. "It helped me to understand what being in the weeds really means and gave me the structure to go forward, start creating my recipes and food that has ultimately led me to where I am right now."
Lewis studied culinary at Francis Tuttle while he was attending Putnam City North High School, graduating in 2015. He developed his love for the culinary arts while growing up with the three expert cooks in his family: his mother Lisa, his aunt Gertrude and his grandmother Valerie. 
A cookbook he is putting together is partly a tribute to their influence.
"They instilled that love of cooking in me, so this is my way of paying homage to their love of cooking, their memory and showing people the food that inspired me," Lewis said.
Lewis is now booking private catering jobs that take him across the country.
"I've also pivoted to more of a social media creation side of things with my sister, who is a professional photographer," he said. "We create all exclusive content, work with different brands, and create content for them to promote on their channels."