World of possibilities for Haley McDaniel
Haley learned how to introduce young children to the endless world of exploration. And that process has done the same for her career.
World of possibilities for Haley McDaniel
Published November 12, 2019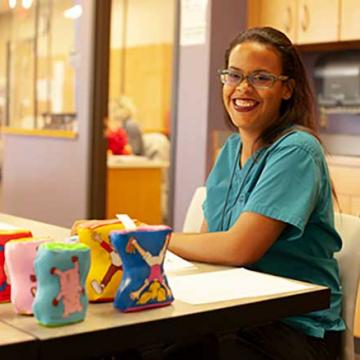 Haley McDaniel
Early Care and Education of Children
"Kids have a lot to say. You have to listen to them, give them that attention and redirect them back to where you want them to go."
Haley McDaniel is happy to admit college wasn't for her because she needed something more structured. Thanks to the Early Care program, she can provide that structure to young children at the beginning of their educational experience.
"I don't do well just sitting in a classroom and someone lecturing me all day," Haley said. "I get to talk to the kids, play with the kids, all day long. I get to experience it firsthand instead of someone telling me what's happened to them."
Haley is working toward a Master Teacher certification, and she already works as an assistant teacher at an Oklahoma City preschool. She also volunteers on campus in the Child Development Center, where she assists the education professionals as they guide young children through the early learning process.
"I do have parents who will say it's just daycare, but that's not how we see it," Haley said. "It's a school. This is important. The first few years of a child's life is the most important, because that's when they can soak up everything."
Haley and her classmates learn how to guide children between the ages of 3 and 5 through a journey of discovery. It's much too early for conventional schooling, and the best practice is to provide an environment where exploration is safe and structured.
"It's always about guiding, redirecting and being positive," she said. "You can't go in with a negative attitude. These children will feed off of your energy and your attitude about everything. If you're having a horrible day, they'll pick up on that. It's so much more than how you look outside. You have to feel positive on the inside, too."
It's hard to not be positive in this environment, Haley said. With a little bit of patience and the right mindset, Early Care students find themselves having fun while structuring a place to learn, play and grow.
Now, Haley said she has career options that range from teaching at a preschool to being an au pair in South Korea. Opening the world of possibilities for children has done the same for Haley.
"You can do all kinds of things," she said.