Business Marketing class donates HUGS
Students create their own clothing drive, donate hundreds of items to local nonprofit
Business Marketing class donates HUGS
Published December 6, 2021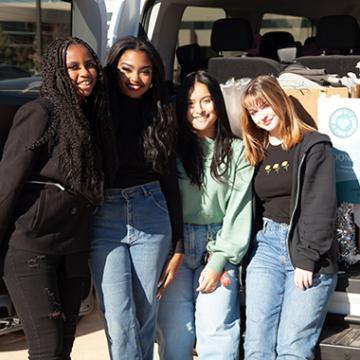 Clothing Drive
Project Management
Program
Business Marketing & Management
"We knew we wanted to do something to help the community." - Mia Oates
Four students in the Business Marketing and Management program used a class project to start a clothing drive. Families in need received hundreds of jackets, shirts, pants, socks, and more just in time for colder weather.
High school students Makayla Worley (Putnam City West), Mia Oates (Edmond Memorial), Destiny Ngigi (Deer Creek), and Sherry Arreaga-Lopez (EPIC) worked together on a Project Management course assignment. They decided to create a clothing drive and market it as HUGS 4 the Heart. HUGS stood for hats, underwear, gloves, and socks.
"We felt this would be the best way to give back to the community, especially with the colder winter months coming up," Oates said. "And this is something that I want to actually do in my professional career, so it was perfect."
They created a logo and mission statement, and then placed donation boxes at their high schools and around Francis Tuttle campuses. For a cause, they chose The Sharing Tree, a nonprofit in Moore that supports families in need.
The results:
More than 100 coats and jackets donated
Over 70 shirts donated
Over 70 pairs of jeans and pants donated
More than 200 pairs of socks donated
The students then collected all of the clothes and, together with instructor Natalie Jordan, delivered them to The Sharing Tree with plenty of time before Christmas. Makayla said it was the perfect way to learn project management while also lending a helping hand.
"It definitely helped us see how to manage better, how to lay everything out and organize," Makayla said. "And for next time, it helped us to see how we can do things even better."