Sticking With It
Diana Sheely has worked in intelligence and operations throughout her career, and now she's preparing for the next level.
Sticking With It
Published June 2, 2022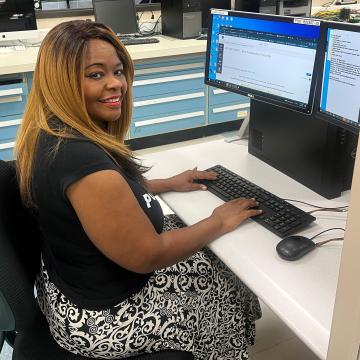 Diana Sheely
Securing data, with optimism
Program
CISCO Network Security
"Stick with it and let your legacy be that you at least tried!"
Diana Sheely loves Francis Tuttle's CISCO Network Security program. With an extensive background in military and corporate intelligence and operations, one could say that she has lived security throughout her career. Computer diagnostics and safeguarding information are her thing, and have been top of mind for this active student for much of her adult life.
After her employer closed her department during the height of the pandemic shutdown, she sought recommendations from fellow veterans and determined that the CISCO program would complement her existing knowledge base. Couple that with her desire to be actively engaged, she could not simply remain sedentary at home, and could not imagine not being in learning mode!
With unmistakable optimism, Diana urges everyone to find ways to contribute in your community, whether by volunteering in a school or helping in some way through other organizations. She also advocates perseverance through whatever you choose to do in life, even with inevitable ups and downs, "…for the benefit of all! No matter your age or situation, make the best of it. Stick with it and let your legacy be that you at least tried—if you don't, you've already given up," she added.
Diana excels in completing tasks, and is on track with her CISCO program. One could place a safe wager on her not only completing the curriculum, but learning it front and back to benefit her next employer, and the security of their customers.