The art of collision repair
Chris Boyer received his welder certification and an additional 30 I-CAR certifications to create a career in collision repair and metal art
The art of collision repair
Published January 13, 2020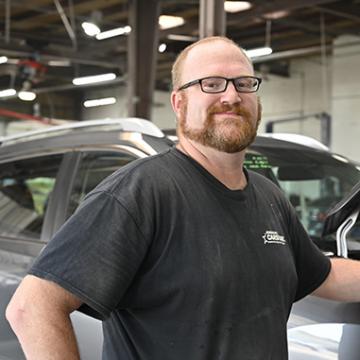 Chris Boyer
Auto Body Technician at Jeremiah's CARSTAR
Welding Graduate
"You've got to do it all by hand, and that's another artistic outlet."
Chris Boyer has been making his welder certification earned through Francis Tuttle pay off for about 20 years now.
In that time, continuing education has landed him an additional 30 I-CAR certifications, and Chris said he plans on getting a few more. He got them through his current job, Jeremiah's CARSTAR Collision in Oklahoma City.
"I don't know much, but I know cars," he said.
But cars are not what brought Chris to welding.
"I wanted to learn to weld because I like metal," he said. "It's rough, it's heavy; it's just like me."
In addition to his job in collision repair, Chris has an online business, Petal to the Metal, which he uses to sell the art and creations he welded. He even uses his skills to create custom pieces that help around the Jeremiah's shop.
"When you crash a car you get a dent, and a panel goes in, well I have to pound that panel out, which is all metal, and we use filler to smooth it all out, and I hand sand a lot of it to get the body lines, the concave roll, and everything," Chris said. "You've got to do it all by hand, and that's another artistic outlet."
Chris graduated from Edmond North High School in 1999 having obtained his welding certification from Francis Tuttle. He started working at Jeremiah's three years ago and said collision repair is just one type of job that welding experience can provide.
"A lot of people want to give up, and I think if they just stick with it, they'll find something they like," Chris said. "There's a lot for a welder to do. There's opportunities, and they're all different, not all in collision shops. I only have a high school education, I didn't go to college. I'm a laborer, I will always be, and I'm OK with that because it's honest."
Boyer said for anyone interested in obtaining a welding certification, tungsten inert gas or TIG welding is the way to go.
"It's so clean and so precise, and you can really get the really good jobs with TIG welding," he said. "Metal inert gas (MIG) welding is great for stuff that I do, but this is about the best I can do. If you want to be better, you've got to learn TIG welding."