Instructor, student develop a sign language specific to Auto Collision
Instructor Clint Drabek and student Giovanny Perez developed their own form of sign language specific to Automotive Collision Repair
Instructor, student develop a sign language specific to Auto Collision
Published May 18, 2021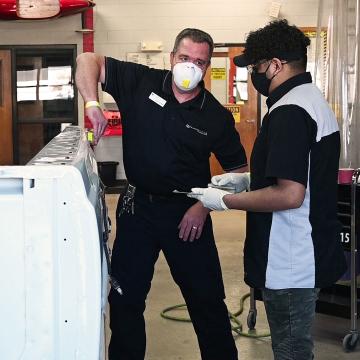 Automotive Collision Sign Language
Clint Drabek and Giovanny Perez
"We do have a pretty good system. I really enjoy it. He's a very good student, and he's very eager to learn."
Giovanny Perez enrolled in the Automotive Collision Repair program at Francis Tuttle Technology Center because he loves working on cars.
He didn't let his deafness interfere with that, and Tim Ozment, an American Sign Language Interpreter from Putnam City West High School, was able to help Perez navigate some of the course material. But it turns out there aren't many signs that cover the specific parts and procedures students learn in the program.
What's more, Instructor Clint Drabek didn't know sign language. What he did know is that he didn't want Perez to fall behind or to be impeded by the complexities of the collision repair shop on campus. So Drabek and Perez teamed up, and over the course of a few months they were able to develop their own sign language that is shop-specific and allows for easy communication.
"It wasn't hard at all," Perez said. "The instructor really helped me a lot, and I was able to understand the teacher. He would show me the part and then explain the part. The teacher would explain things and show me the words for them."
Perez is in his second year of the program now. Drabek said he was uncertain at first about how he could communicate to Perez, but he was happy to take the time to develop the shop-specific signs, which are a mix of current American Sign Language and what could be referred to as "Home Signs." 
"He came here with his mother to view the program first, and she was extremely worried about him coming here," Drabek said. "I was actually very concerned, too, because I didn't know how I was going to communicate all of the different nuances that we have. Between Tim and Giovanny, I was able to think of a simple gesture to help him understand what I wanted him to do. And that's what we have. We basically have a small language of gestures that he understands what it is for that process."