Josue Harkins knows hard work
Growing up in a large family taught Josue Harkins teamwork, and gave him an edge to remain persistent in his pursuit to join the U.S. Air Force Academy.
Josue Harkins knows hard work
Published February 18, 2022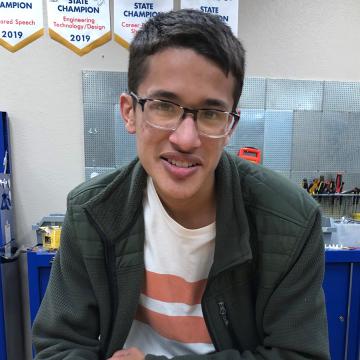 Josue Harkins
Diligence pays off
Program
Engineering Academy
"I want to participate in something bigger than just me."
Among life goals to participate in "something bigger than just me," Josue Harkins has plans. Working with his team through their Engineering Academy capstone project, he envisions other innovations that could help humanity. Growing up with six sisters and two brothers, he's lived teamwork and communication, among other traits, and he knows that hard work and diligence will give him an edge against competition relying solely on talent. He'd like to capitalize on his long-held interest in aircraft and their use through the world wars and beyond, and pursue engineering in the aviation and aerospace industry. With interest and a family history of military service, he has received a Congressional nomination and awaits word of final admission to the U.S. Air Force Academy. In the interim, he has been accepted to The Citadel. His academic and hands-on experiences in the Engineering Academy will help in his pursuits, and we could not be prouder for him to be a student at Francis Tuttle!