Animating the World
Animation fascinates many, including Western Heights junior Emily Valenzuela, and she is preparing for her career.
Animating the World
Published March 11, 2023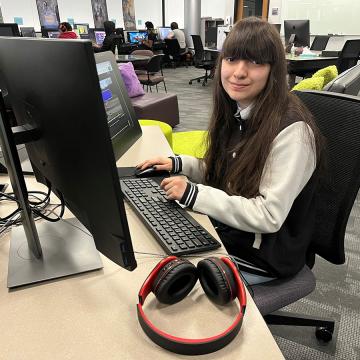 Emily Valenzuela
3D Animation and Visual Effects
"Everyone at Francis Tuttle is very nice and helps you be successful, especially the instructors, who have helped bring me out of my shell."
Emily Valenzuela has wanted to learn animation since she was very young, after being fascinated by kids' TV shows, movies, YouTube and other animated platforms. Learning of Francis Tuttle's 3D Animation and Visual Effects program during a tour as a sophomore inspired her to follow her dream.
She has been drawing for more than six years, which is where animation begins, and now as a junior at Western Heights High School, she is taking every opportunity to create animated characters and put them in motion to interact with environments she also designs.
Emily's parents have always supported her interests, especially her dad, who has a penchant for anime, and loves Dragonball. Emily is also a big fan of shows on Cartoon Network, hoping to one day create her own series.
"Everyone at Francis Tuttle is very nice and helps you be successful, especially the instructors, who have helped bring me out of my shell."