Prepared for Her Journey in Medicine
Jessica Wise will pursue her interest in medicine she's had since she was seven.
Prepared for Her Journey in Medicine
Published May 16, 2022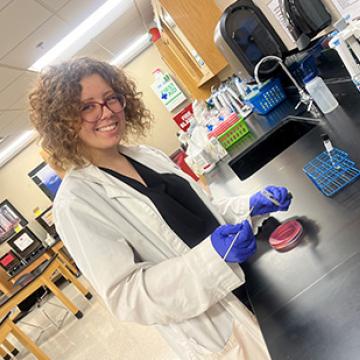 Jessica Wise
Studying specimens in the lab
Program
BioSciences and Medicine Academy
"It's definitely hard work, but worth the effort in the long run."
Jessica Wise has been interested in medicine since she was diagnosed as a Type I Diabetic at the age of seven. In high school, she loved microbiology in Francis Tuttle's Biosciences and Medicine Academy, which inspired her junior year research project. Then, for her senior capstone project, she incorporated her interest and love of microbiology to hypothesize a correlation between bacterial motility and antibiotic sensitivity.
As a diabetic, she was well aware of potential dangers presented by harmful bacteria, as well as various human sensitivities to antibiotic treatments. Her capstone project presented a culmination of her interests and three years of preparation for the next step in her journey. Nearing graduation, Jessica has been accepted to The University of Oklahoma planning to major in Biology and perform in the percussion section with The Pride of Oklahoma marching band. The Deer Creek senior has tentative plans to become either a pediatrician or a physician's assistant.
Jessica would tell younger students who are considering the BSMA that it is definitely hard work, but all that she has learned has been well worth the effort, as she feels prepared for the most rigorous college coursework. She added that she has enjoyed small class sizes and the fact that everyone has a common bond with their interests in medicine and healthcare.
Her path has been set and her journey through college and on to professional medical training have begun.