Studying for Emergency Medicine
Jonathan Sermons wants to work in emergency medicine, and he's pursuing that in the Bioscience and Medicine Academy.
Studying for Emergency Medicine
Published October 10, 2022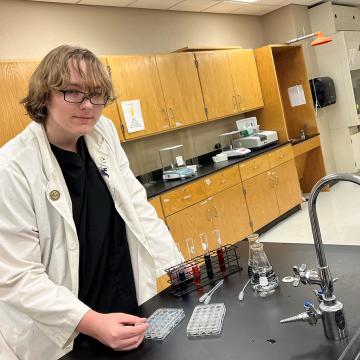 Jonathan Sermons
Crescent junior pursuing emergency medicine
Program
Biosciences and Medicine Academy
"I really like the hands-on projects and labs we get to do."
Crescent High School student Jonathan Sermons was interested in serving in emergency medicine, whether as an ER physician, emergency medical technician, or paramedic. He knew he would need to learn about medicine and healthcare, and concluded that a great way to get started was to attend Francis Tuttle's Bioscience and Medicine Academy while in high school.
He had also considered attending Programming and Software Development but ultimately chose to study medicine.
"I really like the hands-on projects and labs we get to do. Last year we did flame tests to see how different substances burn in different colors," Sermons said. "We also got to dissect a cow eye, and sheep brains and hearts, since they are very similar to human organs."
This year in Human Body Systems and Human Anatomy, he's studying muscle and bone structures. The class also collected pond water to view bacteria under a microscope, but first they learned lab safety and the proper use of personal protective equipment.
Johnathan serves as an officer in HOSA, the health occupations student association that connects other health students around Oklahoma and the U.S. He appreciates the opportunities he has to learn and participate in unique experiences.