Helping people in their time of need
Stacy Abraham has always had a calling to help people and the nursing program helped her get there
Helping people in their time of need
Published November 12, 2019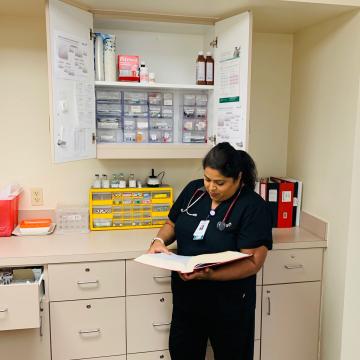 Stacy Abraham
Practical Nurse
Program
Practical Nursing
"This is a fast-paced and exciting field that Francis Tuttle has, without a doubt, prepared me to handle."
Stacy Abraham has always had a calling to help people and is now right at home in her nursing career. She served as HOSA Practical Nursing chapter President in 2017 and began her career immediately after completing the program.
As an Internal Medicine Nurse at Mercy Hospital, she is entrusted to know what to do in emergencies and be the bridge between the physician and the patient. As the physician's right hand in every aspect of the practice, she administers medications and makes sure every question is answered in a swift manner.
"This is a fast-paced and exciting field that Francis Tuttle has, without a doubt, prepared me to handle," she exclaims. "I have to be familiar with vitals, labs and disease processes, convey accurate and vital information that the physician needs to treat patients, and use critical thinking on a daily basis with everything I do."